The Honourable Diane Finley, Minister of Public Works and Government Services - Canadian Federal Government, Visits Wedge Networks and Awards Contract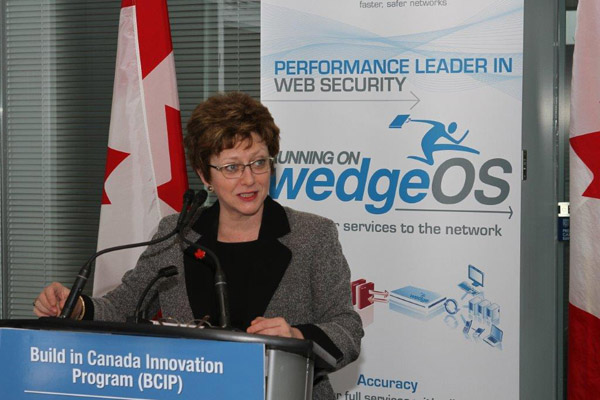 Above: The The Honourable Diane Finley, Minister of Public Works and Government Services
We are pleased to announce that the Honourable Diane Finley, Minister of Public Works and Government Services in the Canadian Federal Government, visited Wedge Networks on Thursday, December 19, 2013, and announced a government contract that was awarded to Wedge under the Build in Canada Innovation Program (BCIP).
The Honourable Diana Finley had glowing praise for the WedgeOS platform and made the following passionate speech about Wedge Networks.
"Cyber security is becoming increasingly important in this online age.
So we are excited about WedgeOS. It is a new software platform that conducts a full inspection of content within internet traffic in real time. It can provide a network with accurate and transparent security by scanning all content and making sure it is free of malware, spam and other security threats.
WedgeOS can be used to protect servers, computers, laptops and other mobile devices, and can be readily plugged into existing networks.
A cutting-edge innovation such as this one could bring many benefits to the IT industry so I am very pleased to announce this contract that will kick-start the process of moving WedgeOS from the lab to the marketplace.
WedgeOS is just one example why we created the Build in Canada Innovation Program - to connect Canadian companies with federal departments and agencies that have a need for innovative products and services."
In reaching this milestone, we would like to thank all of our stakeholders for their ongoing support. Without your support, achieving this stage in our business may not have happened. Expect even more exciting things from Wedge in the future!
- Hongwen Zhang, CEO, Wedge Networks Inc.
---