Cloud Cover
ICT West Success Stories: Mobile World Congress
Published on ICTWest.ca, March 18, 2016.
Smartphones, gaming systems, tablets and wearables have made us more connected than ever before. With increasing compatibility between devices, what does this mean for security?
Wedge Networks' cloud-based security program protects an entire network, so there's no need for users to download software updates to individual devices.
All Internet-supported devices are protected – enabling them to communicate with each other without the need to embed each individual device with separate security tools. Without safe, consistent and affordable security, the Internet of things (IoT) will fail consumers.
As part of ICT West's Alberta delegation at this year's Mobile World Congress (MWC), Calgary-based Wedge Networks was a leader in IoT security.
With ICT West helping Wedge Networks make connections at the congress, Hongwen Zhang, Chief Technical Officer and co-founder of Wedge Networks, was able to focus on technological offering and identify how the central topics of the congress aligned with it.
"There was very good promotion by ICT West and the Canadian government. We were swamped with meetings. We had to speed into different meetings," laughs Zhang. "The Canadian pavilion was small but completely packed all the time."
He notes that with the support and backing of organizations like ICT West and the government companies can reach break into the global market much faster.
Wedge used MWC to launch their Cloud Network Defense that provides IoT-optimized security and safeguards all network-connected devices, both physical and virtual. Companies who adopt Wedge Network's platform can reduce their operational costs and sell security as a service to their customers.
Directly after MWC, Wedge Networks was recognized at the 2016 Info Security Product Guide's Global Excellence Awards in San Francisco. Their Cloud Network Defence program won three awards — IoT Security, Most Innovative Security Product and Cloud Security Product of the Year.
"We're so glad our innovation is being recognized by customers and industry peers. With this recognition we have something very solid that's made in Canada and innovative at a world level."
For the original article, please see ICTWest.ca.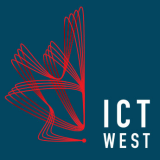 ---